Each quarter, we share insights into ever-changing traveler intent and demand based on our first-party data from hundreds of millions of travelers visiting our travel websites. We've gathered four of these insights to inform you on how to best understand and reach today's travelers. You can download our full report here (available in English only).
Searches increase globally

We are sure you've noticed the increase in travel demand in the last couple of months. Globally, traveler searches on our Expedia Group sites increased 25% quarter-over-quarter.

Insights from our March 2023 consumer survey with Wakefield Research further confirm this sentiment, as 72% of travelers are planning to travel for leisure more this year to make up for lost travel opportunities over the last few years. More than 8 in 10 consumers (83%) plan to travel more or the same amount as last year, and 81% plan to spend more or keep their budgets the same for a single trip, compared to last year.
Travel agency tip: Three ways you can prepare for high demand:
| | | |
| --- | --- | --- |
| Keep track of current trends and any events and festivals that could drive demand. | Build strong partnerships with suppliers, so you can secure availability. | Offer different payment services to make it more convenient for travelers. |
Travelers continue to plan further ahead
Search windows have continued to lengthen in recent quarters as travelers are planning for trips further out. The 180+ day search window increased by 30%. Globally, the 91- to 180-day search window saw the strongest growth, with a 60% increase this quarter. This means travelers are planning trips much sooner than before, and already looking at planning their fall and winter vacations for 2024.
Mid-year getaways maintain momentum

Warm weather destinations are top of mind for consumers searching for mid-year getaways, with Cancun, Palma de Mallorca, Denpasar, and Barcelona on the list of top-searched destinations for travel from June to September 2023.

Similarly, many consumers are looking to relax by the water, but that doesn't always mean at the beach. Our data shows that Expedia's "pool" filter is the top amenities search.

Travel advisor tip: Use the filters on Expedia TAAP to find properties with a pool, or book a vacation rental that provides more space and privacy. Learn how.
Beach getaways and city breaks are still popular
It's not a surprise that beaches and cities stay on top of travelers' wish lists. Major cities and beach destinations made the global top 10 list of booked destinations in the quarter, as New York City, Las Vegas, and London held on to the top spots.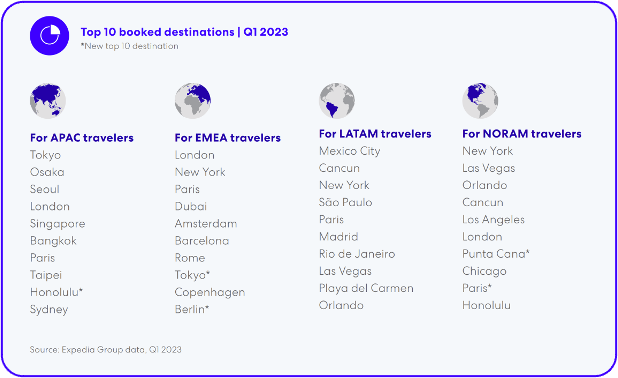 Use our top-booked destinations in Q2 to inspire your travelers this summer and plan your marketing strategies to attract more demand to your agency.
Available in English only